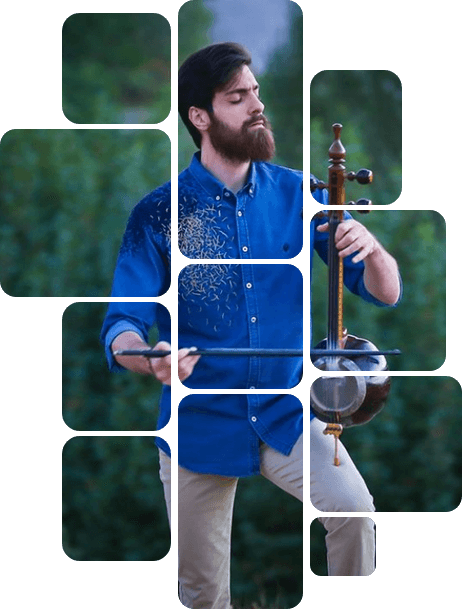 Sina Alam is an Iranian kamancheh, gheychak and violin player, teacher and composer. He is the main member of Shoosh Ensemble, directed by Hooman Khalatbari. He has also been active in Shahram Nazeri and Zand Ensembles.
Sina Alam started learning music at the age of 9 with the violin instrument and worked for about 5 years unprofessionally. He then attended high school at a music conservatory and chose kamancheh as his professional instrument. Sina Alam mastered music under the supervision of various teachers including: Mostafa Kamal Pourtorab, Mohsen Nafar, Hadi Arazm, Hadi Montazeri, Mohammad Reza Azadehfar, Vartan Sahakian, Esmaeel Gerami and etc. Finally in 2012, Sina Alam graduated from the University of Tehran with a Bachelor's degree in Music with a concentration in Kamancheh instrument.
During his academic years, he has always been very active and often took part in various concerts allowing him to expand his knowledge constantly. Also, he collaborated with the Islamic Republic of Iran Broadcasting (IRIB) as a musician and composer, and has experience in teaching at a music conservatory. Sina Alam received a music teaching license from the Ministry of Culture and Islamic Guidance in 2008.